Sanji
is a major supporting character in the popular Japanese anime/manga series
One Pie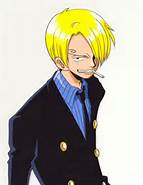 ce.
Once a chef on the restaraunt boat Baratie, he joined the Straw Hat Pirates in an attempt to fulfill his dream of finding the All Blue, a sea where the North Blue, East Blue, West Blue, and South Blue all meet, making it a chef's paradise. Sanji is also known for his attitude towards women, where he falls head over heels for basically any woman he sees. He fights using the style known as Black Leg, using only his powerful and efficent kicks to deal with enemies.
In Fiction Wrestling, Sanji is currently signed to NJPW, where he is one half of the current NJPW Tag Team Champions alongside Franky. He has also worked for UWE, now working as their chef.
Background
Edit
Series: One Piece
Species: Human
Age: 19
Height: 5'9"
Weight: 194 lbs.
Companies: (Currently) NJPW (Formely) UWE 
Debut: ?
Status: Retired in UWE, Active in NJPW
Billed from: North Blue 
Allies: Straw Hat Pirates
Rivals:
Twitter: @Black-LegSanji
Wrestling Career
Edit
Personality
Edit
Personal Life
Edit
In Wrestling
Edit
Finishers
Edit
Diable Jambe (Running High Impact Discus Big Boot)
Signatures
Edit
Entrance Themes
Edit
Championships and Accomplishments:
Edit
Ad blocker interference detected!
Wikia is a free-to-use site that makes money from advertising. We have a modified experience for viewers using ad blockers

Wikia is not accessible if you've made further modifications. Remove the custom ad blocker rule(s) and the page will load as expected.