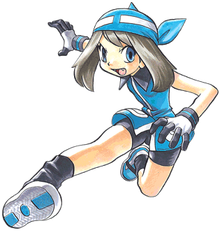 Sapphire Birch is a main character in the manga series Pokémon Adventures. Sapphire loves to battle and is a tomboy; she has been seen swinging on vines through trees in an outfit made of leaves. However, she does have a feminine side. For her skills, she is given the title of Conqueror.
In FWM, She along with Ruby is currently signed to a split contract deal with Universal Character Association (UCA), National Carnage Wrestling (NCW), GAIA: Women's Athletes, and WWE: Animated.
Background
Edit
Series: Pokémon Adventures
Species: Human
Age: 12
Height:
Weight:
Companies: (Currently) UCA, NCW, GAIA, WWE: Animated (Formerly) IWF
Debut:
Status: Active
Billed From: Littleroot Town, Hoenn
Allies: Ruby
Rivals:
Twitter:
Wrestling Career
Edit
WWE: AnimatedEdit
Personality
Edit
Personal Life
Edit
In Wrestling
Edit
Finishing Moves
Edit
Signature Moves
Edit
Nicknames
Edit
Managers
Edit
Entrance Themes
Edit
Championships and Accomplishments
Edit
Ad blocker interference detected!
Wikia is a free-to-use site that makes money from advertising. We have a modified experience for viewers using ad blockers

Wikia is not accessible if you've made further modifications. Remove the custom ad blocker rule(s) and the page will load as expected.