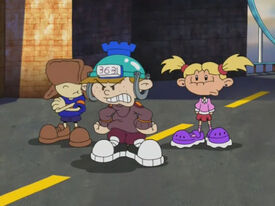 Sector W
 is a Fiction Wrestling stable currently signed to WND. They are comprised of
Harvey 'Numbuh 363' McKenzie
,
Lee 'Numbuh 84' Harper
,
Paddy 'Numbuh 85' Fulbright
and
Sonya 'Numbuh 83' McCallis
, all from
Codename: Kids Next Door
. They are the youngest KND Sector in the organization around the time 
Sector V
 was active, and share a desire to prove themselves as the best and establish a legacy of their own. They are also members of the
Rookie Revolution
, despite 3 of them being face (or tweener at least), compared to their mostly heel stablemates.
Background
Edit
Wrestling Next DoorEdit
In Wrestling
Edit
Triple Tag Team Finishing Moves
Edit
Double Powerbomb (Harvey and Paddy)/Shiranui (Lee) combination
Triple Tag Team Signature Moves
Edit
Double Team Finishing Moves
Edit
KRS-W (Sitout Powerbomb (Paddy) / Shiranui (Lee) combination)
Double Team Signature Moves
Edit
Harvey's Finishing Moves
Edit
363 (Double Underhook Facebuster)
Chain of Command (Kneeling step-over head-hold wrist-lock followed by hooking the opponent's far leg)
Paddy's Finishing Moves
Edit
Cloverleaf
Emerald Isle (Fireman's carry spun into Emerald Flowsion)
Lee's Finishing Moves
Edit
Braintwister (Twisting Brainbuster)
Tsunami (Corkscrew Moonsault)
Sonya's Finishing Moves
Edit
Darkness Buster (Straight jacket scoop brainbuster)
Lightbringer (Lifting spinning DDT)
Entrance Themes
Edit
"The Kids Aren't Alright" by The Offspring
"Satellite" by Rise Against (as members of the Rookie Revolution)