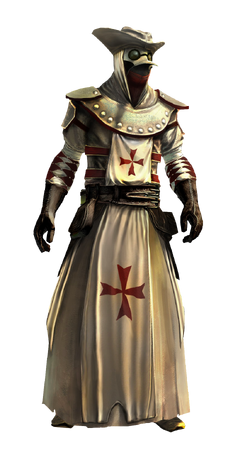 Seraffo
is a character from the videogame
Assassin's Creed
. In the
Assassin's Creed
universe, he is a Venetian expatriate and Templar agent living in the Ottoman Empire, who fell out of practice with his patients and killed more than he cured.
In wrestling, Seraffo currently works for WWE: Animated. He is a former one-time EWA European Champion and one-time EWA Triple Alliance, alongside Biker and Sho Minamimoto.
Background
Edit
Series: Assassin's Creed
Species: Human
Age: 27
Height: 6'2
Weight: 204 pounds.
Companies: (Currently) WWE: Animated (NXT), (Formerly) EWA
Debut: 2016
Status: Active
Billed from: Venice, Italy
Allies: Biker, Sho Minamimoto, the Dreamer family
Rivals: Jake Laughlin
Twitter: @OttomanDoctor
Personality
Edit
Relationships
Edit
Kimmy Dreamer
Edit
Kenny Dreamer
Edit
Gear Valant
Edit
Jake Laughlin
Edit
2014 Draft
Edit
Seraffo would first appear for the Fiction Wrestling Multiverse's Draft of 2014. The Ottoman Doctor, however, wouldn't be drafted, and left for the European Indy Circuit shortly thereafter.
Debut, Eurocontinental Championship and Triple Alliance Championship with Biker and Sho Minamimoto (2014)
Edit
TBA
Hotline Venice, Chase after the Grand Championship and Departure (2015)
Edit
TBA
2015 Draft
Edit
Seraffo would make a surprise comeback for the 2015 Draft, entering as a Singles Talent once again. Now much more improved and much more known, the Ottoman Doctor would attempt a second time to get picked up by the companies of the Multiverse. And yet, for the second year in a row, Seraffo would fail to be Drafted.
2016 Indy Olympics
Edit
Personal Life
Edit
In Wrestling
Edit
Finishers
Edit
End Game (Elevated Whiplash)
Mercury Injection (Arm-Triangle Choke)
Second Opinion Neckbreaker (Cross-Arm Neckbreaker)
Signatures
Edit
Farewell From Venice (Double Underhook Backbreaker)
Solar Eclipse (Sit-Out Side Slam)
"Locking Up The Sun" by Poets of The Fall (2014 - Present)
Championships and Accomplishments
Edit
EWA Eurocontinental Championship (1-time)
EWA Triple Alliance Championship (1-time, w/Sho Minamimoto and Biker; shortest reign)
Seraffo has two versions of his costume: the one he uses outside of wrestling, and the one he uses when he wrestles. The difference between the two is simple, the latter has the front of the skirt removed to allow for better movements.