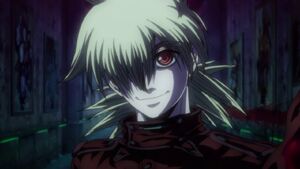 Seras Victoria is one of the protagonists of the anime and manga series Hellsing. Seras is former police officer who became a vampire courtesy of Alucard after was she was taken captive by another one. Seras later becomes a member of the Hellsing Organization and comes into her own as a vampire during a fight against Millenium's Zorin Blitz.
Much of Seras's background in wrestling comes from Alucard and her moveset reflects this. She is currently a member of XFWA's Idol Division.
Background
Edit
Series: Hellsing Ultimate
Species: Vampire  
Age: 19 (Immortal)
Height: N/A
Weight: N/A 
Companies: (Currently) XFWA, UWE
Debut: Year 13
Status: Active
Billed from: London, England, Great Britain
Allies: 
Rivals: Ayano Kannagi, Mizore Shirayuki
Twitter: @Vampire_Apprentice
Wrestling Career
Edit
Personality
Edit
Personal Life
Edit
In Wrestling
Edit
Finishers
Edit
Draculina Driver (Kneeling Reverse Piledriver)
Midnight Embrace (Gogoplata)
Holy Hellraiser (Vertical Powerbomb)
Signatures
Edit
Clothesline From Hell (Running High-angle Lariat) – adopted from John "Bradshaw" Layfield
Harkonnen (Big Boot)
One-Handed Chokeslam
Savate Kick
Heart Punch
Knee Shoot
Inverted Atomic Drop
Nicknames
Edit
"The Vampire's Apprentice"
"Draculina"
Theme Songs
Edit
"Seek and Destroy" by Metallica
Ad blocker interference detected!
Wikia is a free-to-use site that makes money from advertising. We have a modified experience for viewers using ad blockers

Wikia is not accessible if you've made further modifications. Remove the custom ad blocker rule(s) and the page will load as expected.