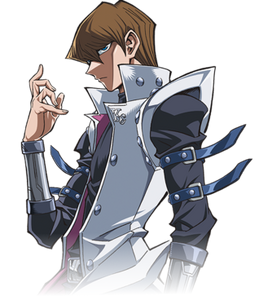 Seto Kaiba, or just commonly referred to as Kaiba, is one of the main characters of the Yu-Gi-Oh! series. He is the majority shareholder and CEO of his own multinational gaming company, KaibaCorp, and aims to become the world's greatest player of Duel Monsters. To accomplish this goal, he must defeat his arch-rival, Yugi Mutou. He is the modern-day lookalike reincarnation of Priest Seto himself, the original keeper of the mighty Blue-Eyes White Dragon.
In the Fiction Wrestling Multiverse (FWM), Kaiba is a professional wrestler currently signed to Apex Caliber Wrestling (ACW) on the Ignition brand and Impact Wrestling: Animation Action, where he is the current TNA Animation Heavyweight Champion in his first reign.
He is known primarily for his career in ECW: Blood & Ink and has been in other companies such as Universal Character Association (UCA) and Cartoon Wrestling Alliance (CWA).
Background
Edit
Series: Yu-Gi-Oh!
Species: Human
Age: 22
Height: 6'3"
Weight: 234 lbs.
Companies: (Currently) ACW, TNA: Animation Action (Formerly) UCA, ECW: Blood & Ink, CWA
Debut: 1996
Status: Active
Billed from: Domino City, Japan
Allies: Mokuba Kaiba (brother), Blue Oak, Carver Hawke, The Gods of Darkness (Yami Bakura and Marik Ishtar)
Rivals: Yugi Mutou, Joey Wheeler, Ash Ketchum, Garrett Hawke, Commander Shepard, Jesse Alvarez
Twitter: @KaibaCorpPresident
Professional Wrestling Career
Edit
ECW: Blood & Ink Edit
Rising Through the Ranks (1996–1997) Edit
Feud with Yugi Mutou and Animation World Champion (1998) Edit
Universal Character Association Edit
Apex Caliber Wrestling Edit
Cartoon Wrestling Alliance Edit
TNA: Animation Action Edit
Various Feuds (2014–2016) Edit
Animation Heavyweight Champion (2017–present) Edit
Personality
Edit
He is fairly condescending and scathing to everyone, with the exception of Mokuba, the only person he is consistently shown to treat with love and care. However, Kaiba has compassion for children—especially orphans (as he himself was one and knew what it felt like). He is also shown, deep down beneath his stony, ice-cold exterior, to be incredibly lonely, and wishes to be more open with people, but is unable to do so because of his belief that everyone is alone.
This portrayed personality is also very likely because of the years of systematic emotional and psychological abuse of his adoptive father (although this is played down in the English version of the anime). At various points during the series, he opens up momentarily, performing kind acts, though always covering them up with sarcasm, and denying them if asked. Like the Pharaoh, pride is Kaiba's strength and weakness, never backing down from a fight and giving everything in a Duel. This results in his sense of superiority and sense of arrogance, making it extremely difficult to earn his respect, and causes him to look down on and treat others as inferior until they do so.
Personal Life
Edit
Seto Kaiba is the elder brother of Mokuba Kaiba.
In Wrestling
Edit
Finishing moves
Edit
Neutron Blast (Argentine Backbreaker Rack dropped into a knee lift to the back of the opponent's head) – 2000–2005; used rarely thereafter
STF – ECW; 1996–1999; used as a signature thereafter
Ultimate Dragon Plunge (Diving Double Underhook Facebuster) – 2000–2005; used rarely thereafter
White Dragon Plunge (Double Underhook Facebuster) – 2000–present
Signature moves
Edit
Big Boot
Brainbuster, sometimes onto the ring apron
Clothesline, sometimes to a cornered opponent
Diving Crossbody
Diving Double Axe Handle
Facebreaker Knee Smash, often used as a back body drop counter
Figure-four Leglock
Flowing DDT
High Knee
Inverted Indian Deathlock
Jumping Knee Drop
Multiple Neckbreaker variations

Elevated Gutwrench
Fireman's Carry
Running
Swinging Fisherman

Multiple Suplex variations

Belly-to-back
Dragon
Inverted
Fisherman
Snap, sometimes into the turnbuckles
Super

Pendulum Backbreaker
Reverse STO into the turnbuckle, often as a counter to a running opponent
Ring of Destruction (Hammerlock twisted into a Short-range Lariat)
Russian Legsweep
Sleeper Hold
Snap DDT
Snap Scoop Powerslam
Spinning Spinebuster, as a counter to a running opponent
Tilt-a-whirl Backbreaker
Tyrant Wing DDT (Hammerlock Legsweep DDT)
XYZ-Dragon Driver (Pumphandle Reverse Piledriver)
Nicknames
Edit
"The (self-proclaimed) Real King of Games"
Entrance themes
Edit
"Cult of Personality" by Living Colour (APEX; April 12, 2013 – May 26, 2013)
"Lights Out" by Breaking Benjamin (APEX; June 14, 2013 – present / TNA; 2014 – present)
Championships and Accomplishments
Edit
Extreme Championship Wrestling Edit
ECW Animation World Championship (1 time)
TNA: Animation Action Edit
TNA Animation Heavyweight Championship (1 time, current)