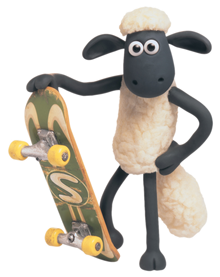 Shaun the Sheep is the main and title character of Shaun the Sheep. Obviously a sheep, Shaun is the Leader of The Flock who displays human intelligence, creativity, and behaviour unlike the rest of the Flock. He's also the Cousin of Timmy the Lamb.
In Fiction Wrestling, Shaun haven't appeared on any major companies yet, but does appear in Anime Wrestling Federation as a Developmental Talent.
Background
Edit
Series: Shaun The Sheep
Species: Sheep
Age:
Height:
Weight:
Companies: AWF (developmental deal)
Debut: ???, AWF developmental show
Status: Active
Billed from: Somewhere in the United Kingdom
Allies: Timmy The Lamb (cousin), Shirley the Fat Sheep, everyone in The Flock
Rivals: 
Twitter: 
Wrestling CareerEdit
PersonalityEdit
Personal LifeEdit
In WrestlingEdit
Championship and AccomplishmentsEdit
Ad blocker interference detected!
Wikia is a free-to-use site that makes money from advertising. We have a modified experience for viewers using ad blockers

Wikia is not accessible if you've made further modifications. Remove the custom ad blocker rule(s) and the page will load as expected.