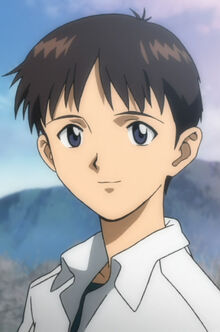 Shinji Ikari is the main protagonist of the anime franchise Neon Genesis Evangelion. He is the Third Child and the designated pilot of Evangelion Unit-01. After his mother's death, he was abandoned by his father and lived for 11 years with his sensei, until he was summoned to Tokyo-3 to pilot Unit-01 against the Angels.
In Fiction Wrestling, Shinji is currently signed to Anime Wrestling Federation (AWF). He is a member of the Rookie Revolution.
Background
Edit
Wrestling career
Edit
Anime Wrestling FederationEdit
Cartoon Anime Society ZEdit
Personality
Edit
Personal Life
Edit
In Wrestling
Edit
Finishers
Edit
Third Impact (Jumping Cutter)
Signatures
Edit
Nicknames
Edit
Entrance Themes
Edit
"Voices" by Rev Theory
"Burn In My Light" by Mercy Drive
Championships & Accomplishments
Edit
Cartoon Anime Society ZEdit
Ad blocker interference detected!
Wikia is a free-to-use site that makes money from advertising. We have a modified experience for viewers using ad blockers

Wikia is not accessible if you've made further modifications. Remove the custom ad blocker rule(s) and the page will load as expected.