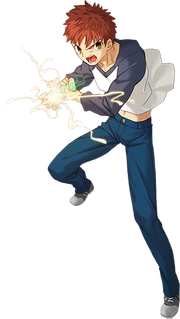 Shiro Emiya is the main character of Fate/Stay Night. A high school student possessing magical abilities but not even a hint of training, Shiro was called to fight in the Holy Grail Wars when he summoned his Servant, Saber. His fate is largely different depending on which story is played.
Shiro was introduced only recently as a wrestler in the XFWA, even though his Servant had been around for some time. 
Background
Edit
Series: Fate/Stay Night
Species: Human (Magus)
Age: 16
Height: 5'4
Weight: 127 lbs.
Companies: XFWA, CEW
Debut: 2010
Status: Active
Billed from: Fuyuki City, Japan
Rivals: Gene Starwind, Coop Cooplowski, Amata Sora
Twitter: @HeroOfJustice
Wrestling Career
Edit
Personality
Edit
Personal Life
Edit
In Wrestling
Edit
Finishers
Edit
Unlimited Blade Works (Sitout Scoop Powerslam)
Circuit Breaker (Killswitch)
Signatures
Edit
Fake-Out (Russian Legsweep)
Nicknames
Edit
"The One-In-A-Million Mage"
"The Ultimate Faker"
Entrance Themes
Edit