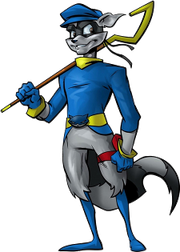 Sly Cooper is the main protagonist of the game franchise of the same name. He is a master theif who uses his skills to perform various heists, usually aided by his friends Bentley and Murray, and is often pursued by Interpol agent Carmelita Fox.
In Fiction Wrestling, Sly is currently signed to Universal Character Association (UCA), and formerly competed in UWE. He is the leader of the Sony Saints stable, which also consists of Ratchet from Ratchet & Clank and Jak from Jak & Daxter.
Background
Edit
Series: Sly Cooper
Species: Anthro Raccoon
Age:
Height:
Weight:
Companies: (Currently) UCA
Debut:
Status: Active
Billed from: Paris, France
Allies: Sony Saints (Ratchet, Jak), Carmelita Fox
Rivals: Mario
Twitter: @ThieviusRaccoonus
Wrestling career
Edit
Universal Character AssociationEdit
Ultimate Wrestling EntertainmentEdit
Total Championship WrestlingEdit
Personality
Edit
Personal Life
Edit
In Wrestling
Edit
Sky's in-ring style can be compared to that of Eddie Guerrero, in that he tends to use a mix of technical skills and high-flying ability. Also similar to Eddie, Sly is not above stretching and bending the rules to give himself an edge over opponents.
Finishers
Edit
Honor Among Thieves (Rolling Cutter)
Signatures
Edit
Ninja Spire Kick (Springboard Roundhouse kick)
Nicknames
Edit
Entrance themes
Edit
"Sin With a Grin" by Shinedown
"One X" by Three Days Grace (with the Sony Saints)
Championships and Accomplishments
Edit
Universal Character Association Edit
Ultimate Wrestling EntertainmentEdit
Total Championship WrestlingEdit
Ad blocker interference detected!
Wikia is a free-to-use site that makes money from advertising. We have a modified experience for viewers using ad blockers

Wikia is not accessible if you've made further modifications. Remove the custom ad blocker rule(s) and the page will load as expected.