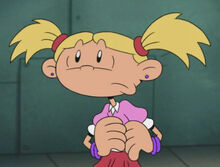 Sonya McCallis is a minor character from the Cartoon Network series Codename: Kids Next Door. Originally introduced as a cadet, she later became Numbuh 83 of the titular Kids Next Door organization and a member of Sector W. Perhaps her defining characteristic is her fear of the dark, which can send her into a violent rage.
In Fiction Wrestling, Sonya currently competes in Wrestling Next Door (WND). She, along with her sector, are members of the Rookie Revolution.
Background
Edit
Wrestling career
Edit
Wrestling Next DoorEdit
Personality
Edit
Sonya is a very cheerful and outwardly girl that always look at the bright side of things and works with her friends to accomplish a mission or task.
Despite her cheerful personality, she harbors a darker side that she unleashes whenever she experience fear. When she was going to into a dark room by force, Sonya went ballistic and unleashed an angry and monstrous personality, mercilessly beat anyone who put her in that state. After her fit of rage, she went back to her typical, cheerful (and cute) self.
Personal Life
Edit
Sonya is currently dating fellow WND wrestler and Sector W teammate Lee Harper, aka Numbuh 84. She is also the little surrogate sister of the older Rookie Revolution member Zoe Payne of CCW.
In Wrestling
Edit
Finishers
Edit
Darkness Buster (Straight jacket scoop brainbuster)
Lightbringer (Lifting spinning DDT)
Signatures
Edit
Crucifix bomb
Kneecolepsy (Standing moonsault double knee drop) – adopted from Frightmare
Soda Rush (Wheelbarrow stunner)
Springboard Neckbreaker
Nicknames
Edit
Entrance Themes
Edit
"Lights" by Ellie Goulding
"Satellite" by Rise Against (with Sector W)
Sonya's last name is an invention of the writer (taken from another fanfic by another writer), since the character was never given a last name in Canon.
Ad blocker interference detected!
Wikia is a free-to-use site that makes money from advertising. We have a modified experience for viewers using ad blockers

Wikia is not accessible if you've made further modifications. Remove the custom ad blocker rule(s) and the page will load as expected.