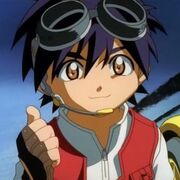 Souichi Sugano
is a main character from the
eX-Driver
manga and anime series. He comes from a future where cars are no longer driven by people, but operated by remote artificial intelligences (AIs). However, when these AIs malfunction, eX-Drivers are called in to stop them. Souichi himself is an eX-Driver, the leader of a small team of them in Japan. 
In Fiction Wrestling, Souichi started out in Cartoon Anime Wrestling Federation (CAWF), where he became known as "Y2S", a parody of Chris Jericho's"Y2J" gimmick. He soon started competing in WWE: Animated as well, where he started a stable called the T.R.U.T.H. This stable eventually grew into the Rookie Revolution, with Souichi as its leader. 
Background
Edit
Wrestling Career
Edit
Cartoon Anime Wrestling FederationEdit
The Y2S Virus and Early Success (1999–2000) Edit
Starting on the October 20th edition of CAWF's Brawl. Vignettes of a hacked computer countdown simulator would appear showing a countdown taking place, and would continue to count down towards zero after each week of Brawl has aired. Then finally, on the last episode of Brawl for both 1999 and the 20th century. During a in-ring promo of Mister Cartoon reliving the events of this past year and promising how the new millennium will be CAWF's biggest triumph. He is interrupted by the same countdown simulator as it winds down to zero. At that moment, standing at the entrance way Souichi Sugano would make his long awaited debut proclaiming that "The Y2S Virus is here!" and that "He his here to destroy the Cartoon Anime Wrestling Federation, just like how he did it for various other important area landmarks in the world." He would tell Mister Cartoon that if he thought dealing with De-Animation X was bad enough, now he and the rest of the fans (Who he called as parasitic idiots) are gonna have to sit back and watch as I work to cripple the CAWF from the inside out, before it falls apart and dies a slow and painful death. This ended up drawing in boos from the crowd in the process.
Later on in the evening, during the main event featuring Ash defending the CAWF Championship against Gohan. Souichi interfered and shoves down Ash, before Gohan could capitalize his finisher, causing the champion to win by disqualification. Souichi would then deliver a painful DDT onto a steel chair to Gohan afterwards, leaving him vulnerable to De-Animation X's assault, that little act would solidify Souichi as a heel. As the new year began, Souichi would continue to interfere in matches and attack the competitors also he began to cause chaos in the weeks that followed on both Brawl and Extreme, like mess with wiring in the electrical wiring in the control room, rig the Fireworks and Titantron, and one time he even struck the CAWF Divas as they performed a hot swimsuit pose contest and even plagued Sandy Cheeks with an actual Virus he picked up, rendering her quarantine and out of action for over a year.
On the January 22nd edition of Extreme. Souichi Sugano would finally make his in-ring debut facing off against Mr. Krabs, who wanted some payback after Souichi cost him his chance at winning back the Hardcore title, but Souichi would pick up a victory over Krabs after striking him with a Lowblow, then delivering a devastating DDT. But he didn't stop there a he proceeded to damage Eugene Krabs more by locking him into his painful and critical Walls of Sugano submission. And it took 20 CAWF officials to pull him off before finally releasing the hold. He would then go on to participate in the Battle Rumble 2000 match, vowing to claiming the CAWF Championship on his quest to further cripple the CAWF. But his plans was foiled after being eliminated by the then CAWF Intercontinental Champion Brock. And in return, Souichi went back into the ring and eliminated Brock. Thus starting a rivalry between the two. The rivalry would lead to Souichi's first match for a Championship belt in the company at CAWF No Escape where he faced and defeated Brock by submission after locking him in the Walls of Sugano. Thus capturing his first major title win in CAWF. He would defeat Brock again on the March 1st edition of Brawl by disqualification after slamming Brock in the skull with a chair. Once taking care of Brock, he went on to defend his title against Krillin who had won a match to become the #1 contender for Souichi's CAWF Intercontinental Championship at CartoonMania 21 on the March 18th edition of Extreme. At CartoonMania 21, the two had a very well performed and executed one on one bout. But in the end, Souichi would counter Krillin hurricarana and apply the Walls of Sugano and pick up the win to retain his title.
A week after retaining his CAWF Intercontinental Championship at CartoonMania 21, he would soon form an alliance with the "Jerk-Ass" Homer Simpson who had recently found a disliking towards CAWF now due to how everybody has been treating him as of late. And with this combined force of Brains and Brawns. Souichi and Homer would both dominate through out April and May in the tag team division. Going on a winning streak in the process as well. In the start of June, that's when the two began to make the big jumps with further crippling CAWF as the two traveled to CAWF HQ in to Hi-Jack the building and hack the video library, wiping out and erasing all existing footage. Unfortunately for them Mister Cartoon got word of this a day before, and was able to upgrade security to full capacity. Preventing the two from entering the building at all. So it was back to the drawing board for them.
Despite that little set back, they continued their domination with team work during the summer as they each also helped one another in various matches, like for instance Homer would deliver an Ass Dive Bomb Drop to his opponents while the ref's back was turned, distracting the referee when Souichi was about to get either pinned or submit, or strike his opponents in secrecy with either a chair, sledgehammer, or any other weapon he could find. And in return Souichi would do some of the same tactics as well, with a notable one being when at Powerhouse on June 18th, Souichi delivered a neck breaking Clothesline to Yamcha, allowing Homer to pick up the win and become the new Hardcore Champion. But soon by early July, Homer was soon beginning to brag about how he managed to win the Hardcore Title all by himself, leaving out Souichi helping him win it at all. Somehow offending him a little in the process.
Feud with Ash Ketchum (2000) Edit
As July was drawing to a close, Souichi soon began his first major rivalry in the company with one of the top heels Ash Ketchum who had offered him a spot in De-Animation X, considering they have similar things in common involving CAWF and still remembered how Y2S saved Ash from losing the title back in December. Though Ash would give Souichi time to think over the offer, but after his match. He would need an answer. After Souichi's match, Ash would confront Y2S and ask for what his choice will be. As for his response, he would immediately plant Ash with a DDT. Then says to him that there is no way that he would ever become a degenerate. this act caused him to turn face for the first time in his career. Ash would immediately respond to Souichi's answer by assaulting him down Souichi backstage during an interview on Extreme. The following week on Brawl in August the 2nd, Souichi would go out for revenge against De-Animation X, immediately after Ash cut a promo involving Y2S, insulting not only his driving skills and reign as Intercontinental Champion. But also his family as well, which ticked off Souichi a lot. This led to Mister Cartoon to create two matches between the two. The first one would be a Car Sumo Wrestling Match to prove who the better driver is. And the second one would be a no DQ match for the Intercontinental Championship at Summer Brawl. On the August 16th edition of Brawl, Ash & Souichi would have their Car Sumo Wrestling match with Souichi barely picking up the win over Ash. But he would go on to lose the Intercontinental Championship at Summer Brawl after being struck down by Homer, who would then join De-Animation X.
After not showing up for over two weeks, Souichi would return once again on the September 9th edition of Extreme! as he came down to the ring and proceeded to beat down Homer as payback for costing him the Intercontinental Championship, then ends it with an eX-Sault. Then tells Ash that next week, he's getting back what's rightfully his. But the following week, Souichi would fail to reclaim the Intercontinental Championship as Ash would strike a Low Blow on him while Howard was distracting the referee. From there Ash proclaimed that Souichi will never see or wear the Intercontinental Championship ever again, seeing that he doesn't deserve to have it. This only made Souichi angry, and proceeded to go to beyond lengths in getting a shot at the title again. And would do so by kidnapping Ash's buddy Pikachu while Ash was busy defending the belt against Michaelangelo on September 24th at Mental Assault. The Pokemon Trainer was livid as he demanded Souichi to return Pikachu, but the eX-Driver refused to do so and only proceeded to hold the Pokemon hostage until he got what he wanted. Due to this on-going issue involving Souichi abducting Pikachu and holding it hostage just so he could fight Ash for the Intercontinental Championship, a ladder match would be made at Bloody Adrenaline where the only win is to unhook the cage Pikachu is hung into. With a stipulation being that if Souichi won, he would earn a shot against Ash's Intercontinental Championship at The Ultimate Cartoon Survivor next month, so on October 22nd Ash & Souichi would square off once again. And despite Ash pulling off everything he could to make sure he would win. It still wasn't enough as Souichi unhooks Pikachu from the cage first and wins the match. And making him #1 contender as well.
With Souichi now one step close to reclaiming the Intercontinental Championship, he proceeded to further increase his chances to win be taking out each and every member of De-Animation X each week leading up to the PPV. Then at the Ultimate Cartoon Survivor, Ash and Souichi would proceed to have their third and final confrontation in this feud, which ended with Souichi picking up the win by making Ash submit in the middle of the ring and claim the Intercontinental Championship for a 2nd time. And on the following episode of Brawl, Souichi successfully retained the title from Ash in the same manner even after with outside interference from De-Animation X members. After that, the feud between these two ended.
Winning Streak, Major Incident and Injury (2000–2001) Edit
With his feud with Ash now over, Souichi would take things easy and go on to having a winning streak from the remainder of 2000, and into the first month of 2001. Facing off against the likes of Pete, Eddy, Fuzzy Lumpkins, Johnny Bravo, Katz, and etc. But then his streak came to an end after he lost to Dick Dastardly by pinfall after he fell into a dirty trick tactic by Dastardly's sidekick Muttley who was at ringside on the February 7th edition of Brawl.
Three days later, Souichi would compete and win a qualifying match for the 1st ever Triple Cage Match for the CAWF Championship at War Zone 2001, where he would be joined and compete against Gohan, Johnny Bravo, Spongebob, Ed, and the reigning champion Peter Griffin. However at the PPV, Just as Souichi was about to grab the title at the top of the cage. Peter suddenly came up at the last second and threw a right hand to the face. Then proceeds to pick him up & literally throws Souichi off from the very top of the cage, cause him to fall 70 feet to the floor crashing through the table, then immediately collides head first into the concrete floor at the same time. Due to that devastating fall, along with the other blows given to him during the match all together. Souichi suffered from severe concussions and career threatening injuries from the neck, knee cap, and arm. Leaving Souichi to be put out of action for a five to seven months, and forcing him to vacate the Intercontinental Championship in the process.
Semi-Retirement, Return and Cruiserweight Champion Pursuit (2001–2002) Edit
On the 1st Brawl after SummerBrawl, Souichi would make his return to the company after his fatal incident back at War Zone during a match between Peter Griffin and Shaggy Rogers, and attacked Peter as part of payback for putting him on the shelf for most of this year & forcing him to get stripped of the Intercontinental Championship. This resulted in a match between the two on Extreme later in the week. Something that Souichi truly wanted, however the match went to a no-contest after Peter delivered a powerful and deadly Griffin Piledriver (Piledriver) and seemingly re-injured Souichi's neck in the process, leaving the eX-Driver paralyzed and sent to the Hospital for examination.
The following week, Then Brawl commentator Jim Ross informed the viewers that even though Souichi was cleared to wrestle again, his neck was still slowly recovering from the incident back in February. And due to Peter Griffin delivering a Piledriver onto Souichi, the neck bones shattered, and left Souichi in a paralyzed state. The Doctor's say that in order to avoid permanent retirement, Souichi will not be allowed to wrestle again until his neck fully recovers. But Y2S wouldn't be staying away from CAWF for a 2nd time, cause immediately on Extreme! He would be seen as the new color commentator for CAWF Extreme after previous co-commentator Colin McGillow kayfabe quit the company out of massive frustrations. So from there and for the next few months, Souichi would go on and receive massive positive feeds from fans and critics alike for Souichi's play by play skills on commentary. Praising him for knowing when to raise his voice on the big and epic moments in wrestling, and calling each match down to the wire. This trend would continue as he called various episodes of Extreme through out the rest of 2001, But starting in mid February of 2002 however, Peter would start cutting backstage and in-ring promos involving how Souichi has grown from a virus threatening to destroy CAWF, to a wimpy play by play commentator. He would believe that the only reason Souichi went to this level was because he was afraid of him, after seriously nearly ending his career not once, but twice. And if he ever tried to step into the ring with him again, he wouldn't mind going for a third time.
Over the next few weeks, even though Souichi would share his reason to Peter no matter where he was watching, the father of the family refused to believe his damn lies and continued to gloat and goat him into trying to get into the ring with him again. But then on the first Extreme of March 2002, as Souichi did his job during a match between Peter and Nappa. While the Saiyan giant was down, Peter proceeded to gloat Souichi some more and dared him to strike him back in face. But Souichi refused, then after the match. Peter pushed things over the edge a little by taking a chair, and slamming Souichi in the skull hard with it. And continued his assault with massive chair shots all over his body. The following week on the March 6th edition of Brawl. Peter cut another promo, this time on how he assaulted Souichi for a 3rd time with the chair shots, and the kid never retaliated or fought back. And to Peter, he believed that was enough proof for him to believe that Souichi is scared to fight him back. And he should be, cause if he thought those first two major incidents Peter caused nearly ended his career. Then he'll bet his ass that this next one will surely end it for good. But suddenly, Souichi would appear and come down to the ring for retribution as he fought Peter back with full assault. After driving Peter out of the ring in shock and outrage, Souichi tells Peter that he wanted to fight him, well he's got one. Cause he got a call from the doctor's saying that his neck is fully healed as is cleared to wrestle again. And as of now, Y2S is back in action.
At CartoonMania 23, Souichi would return to in-ring action and pick up a victory over Peter Griffin after a grueling Street Fight. From there, he decided to take things a little easy and work through the mid-card for a while to improve on his wrestling technique. And over the next few months, he would have a couple of brief but very exciting rivalries. With the likes including Vegeta who believed that Souichi disrespected the Prince of all Saiyans, and then Mokuba Kaiba who wanted to make a huge statement like his brother Seto has been making. After those rivalries, he would unsuccessfully go on to complete in a 25 man SummerBrawl battle royal to determine a new Cruiserweight Champion which would be won by a returning Derek Generic.
This started a rivalry between the new school and the old school as these two would battle one another for the Cruiserweight Championship at Mental Assault 2002, which ended in a Disqualification after Derek struck Souichi with the belt. After that little incident, Souichi managed to blackmail Derek into a rematch for the title at Bloody Adrenaline, but the match ended in a disqualification once again. This time due to interference by Yugi Muto. That sudden attack sparked a bit of heat between Souichi and Yugi as the King of Games was now included into the rivalry. On the October 30th edition of Brawl Souichi and Yugi had a match to determine who would face Derek for the Cruiserweight Championship at the Ultimate Cartoon Survivor. However Derek would strike both of them down at the same time and cause a double DQ draw, but this plan of his backfired as this only led to him having to face both Yugi and Souichi at the PPV in a Triple Threat Match. So on November 24th at the Ultimate Cartoon Survivor PPV, the Triple Threat Match for the Cruiserweight Championship took place. And ended with a bit of controversy after Yugi went for a Swanton Bomb, but Souichi rolled him into a small package, and amazingly both of the competitors shoulder's were pinned down at the same time. Resulting in the both of them to becoming Co-Cruiserweight Champion. However this wouldn't last long, as these two would fight one on one again at the first ever CAWF Apocalypse PPV to determine an undisputed Cruiserweight Champion. Which Yugi would go on to win by submission after reversing the Walls of Sugano and locking him into the Mind Crush submission.
CAWF Champion, Various Feuds and Alliance with Gohan (2003–2006) Edit
After failing to win the 2003 Battle Rumble match, Souichi would proceed to qualify into a eight man single elimination tournament to determine the #1 contender for the CAWF Championship at CartoonMania 24. He would first defeat Big Brother in the qualifying round, the following week he would pick up a victory over Aladdin to advance to the Semi Finals, from there he would win by submission over Jeice of the Ginyu Force. He would advance to the finals that took place at CAWF War Zone 2003 where he defeated Sideshow Bob to become the #1 contender for the Championship against Nappa at CartoonMania.
For weeks these two would build up hype for their match with various promos at early previews when confronted inside the squared circle. But Souichi however would go on to lose the match at the PPV after going for a eX-Sault but ended up getting caught into a Chokeslam pin. However later on in the week, Souichi would demand a rematch against Nappa for the title at Breakout. But Nappa didn't think he was worthy of another shot, however Mister Cartoon would make a match where Souichi would fight against Nappa's old partner Raditz, and if Souichi won. Then Nappa will have to put the title on the line at Breakout against Souichi. And that's exactly what would happen after Souichi won by submission. As the weeks went by leading up to Breakdown, Souichi would have one goal in mind. And that is to finally win the big one by making the big guy tap out. Nappa however replied saying that there's no way the little brat can lock his submission on a Saiyan Giant like himself. Then at the PPV Breakout, it was a very powerful match between the two as Souichi had been training hard and countered many of Nappa's death blows from his 1st match against him. In the end, Souichi would manage to lock Nappa into the Walls of Sugano in the center of the ring, and the Saiyan Giant. After being dealt with too much pain and losing blood fast, he was forced to tap out as Souichi would win his biggest achievement yet. The CAWF Championship.
After winning his the CAWF Championship from Nappa, he would go on to defend the title against Brock on two separate PPVs. With the first one taking place at Off The Edge 2003 in a falls count anywhere match where it ended in a no contest after the two of them battled on the top of the titantron, and fell from it. Crashing right through the stage floor, and were both KO'd in the process. After that little incident, there second match for the title took place inside a Steel Cage at Powerhouse 2003. Souichi would lose the title to Brock after first hitting him with a eX-Sault, and tried to crawl out through the cage door. But gets slammed hard in the face by Misty, allowing Brock to take advantage and win. Souichi used his rematch clause three days later on Brawl against Brock for the title. But ended in a DQ after Brock would use a chair. After that match, he wraps the chair around Souichi's ankle and shatters it after dropping his foot onto it while jumping from the middle turnbuckle. Placing Souichi on the shelf once again. He would return however on September 17th during an episode of Brawl where he assaulted Brock backstage much to his shock and surprise. He would proceed to attack him again this time in the ring until security tried to hold back the ex-driver who was out for revenge right now. This led to a match between these two one more time in October at the PPV Bloody Adrenaline where Souichi would pick up the win, now feeling satisfied. The feud between him and Brock would end.
Months after his feud with Brock ended, Souichi began a feud with The Undertaker after he had been suddenly abducted by his druids during a match against Kevin (EEnE) on the February 28th edition Extreme. The following week The Undertaker would emerge with his druids having Souichi all banged up, wounded, and tied to his crucifix. As the lord of darkness would proclaim that Souichi has a source of hidden dark potential, locked away within his heart. And that he plans to claim the power for his own, by first sacrificing the young boy to eternal darkness. However during the ritual, Souichi somehow began to come through and used all of his strength to break free and fights back the Ministry before making a retreat. For the next few weeks, Souichi would fight back not planning to be a sacrifice to the Undertaker and his ministry. This culminated into a match between the two at CartoonMania where Souichi just barely won.
However the feud would not end there as the Undertaker vowed to sacrifice the young boy, which led to the two having a rematch at Breakout which Souichi lost at. Then the two would settle their feud once and for all at Off the Edge when the Undertaker was not satisfied with just a normal victory over Souichi in the previous match. So in their final match, the only way to claim victory was to strap your opponent to the crucifix, the winner would leave unharmed. While the loser pays the ultimate price, so at Off the Edge. After a violent match between one another, Souichi would manage to slam Undertaker onto his crucifix and strap him onto it first to win. Causing the Undertaker to be sacrificed to the darkness, ending the feud between the two right there.
Souichi would remain quiet for the next few months, however at Mental Assault 2004. He came in during a match between Seto Kaiba and Mister Cartoon where the winner would control 100% of CAWF, and looked like he was going to help screw Kaiba. But after taking a chair, he suddenly strikes Mister Cartoon in the skull knocking him out cold and giving Kaiba the win and full control. After the match, the two shook hands, showing these two have formed an alliance. This action caused Souichi to turn heel once again. On the following Brawl later on in the week, Souichi explained his actions involving on why he did what he did at the PPV. Saying that he secretly hated Mister Cartoon for how he ran CAWF as of late, and knew that since Kaiba was a better business man, he could help make CAWF a better shaped company, as well as help him reclaim something he lost long ago. The CAWF Championship! To make a long story short, Souichi sold his soul to Seto Kaiba so he could be able to get what he wants a lot easier. And that moment would finally occur, when at the 2005 Battle Rumble PPV, Souichi Sugano would win the Battle Rumble match and earn a Championship Match at CartoonMania 26. At CartoonMania, he battled for the CAWF Championship against defending champion Chris Thorndyke in a submission match. In the end, Souichi would counter the Sharpshooter and lock in the Walls of Sugano, and capture his 2nd CAWF Championship win. Chris though would use his rematch clause and the two would face off once again at Breakout in April 2005 in a No DQ match, where Souichi would retain his title after a little surprising help from Gohan. On that night, a brand new Tag Team Alliance was born.
In May of 2005, while Souichi reigned as CAWF Champion. At the exact same time he would also work Tag Team status alongside Gohan as the two would make powerful statements to all the CAWF Superstars in the locker room, and their first big hit was when they feuded with The Erupting Eds and defeated them at Off the Edge 2005 to win their 1st Tag Team Championships together. The following month in June, Souichi would be involved in two title match rivalries. In the Tag Team Championship rivalry it was him and Gohan feuding with Peter Griffin and Dr. Eggman (The Dudley Toonz) and in the CAWF Championship rivalry it was him feuding with CAWF's newest superstar and fastest rising star Aang. At Wrestling King 2005 Souichi and Gohan successfully retain the Tag Team titles after managing to drive Both Peter & Eggman through a table at the same time in a Extreme Rules Match. Later in the evening, despite not being at 100% percent, Souichi was still able to retain his title. Even after a sudden outside interference by Ulrich Stern. (In case your wondering why Ulrich attacked Souichi. Here's the story of why.)
During the start of Souichi's second reign as CAWF Champion back in April, he had a little bit of romance on Ulrich's friend Yumi who at the time was in the running for the Women's Championship. But this little crush started some conflict between him and Ulrich as this grew. However we would learn this romance Souichi had for Yumi was nothing more than a rouge as on the June 1st edition of Brawl, Souichi would come down to the ring during a Women's Championship qualifying match between Yumi and Vicky. And while the ref was down, Souichi slides in and hits Yumi with a DDT. Causing her to lose the match and the chance to be #1 contender. Later in the week on Extreme! Souichi would explain that he was only fooling her, believing that he had a little crush on her. But all this time he was messing with her mind into thinking that and paid a price for it. As for why he decided to do this to her, it's because he's the Champion and he can do whatever he wants. Ulrich though would not take this lightly as he tried the same tactic Souichi used before on Yumi at the Wrestling King PPV, only this one backfired. That little retaliation began an epic feud between the two.
During the following weeks he would play mind games with Souichi, messing with some of his closest friends. But he would reach a new low in his CAWF career as he first kidnaps Yumi, and severely tortures her backstage and breaks her arm in the process. After her, Souichi assaults Ulrich's best friend Odd while out on the stage heading into his match. In the end, Souichi would kick Odd in the chin, sending him off the stage and through the dangerous electrical equipment. Giving him massive 3rd degree burns. All of this was enough to make Ulrich snap as he proceeded to beat the living hell out of Souichi on the July 30th edition of Extreme! Seemingly not liking Ulrich's respect for the champion, Seto Kaiba books a match between Souichi and Ulrich for the CAWF Championship at SummerBrawl inside the Monster Cell. At the PPV, these two would have one hellacious match that would go on to last just two minutes over the twenty minute mark. Where it finally ended with Souichi with the bit of strength he had left to deliver an eX-Sault to retain the championship. This match is said to have been one of Souichi's best matches in his career.
In October 2005 though, his 2nd reign CAWF Champion finally came to an end during a rivalry with recently turned face Rafael (Who was originally a member of Dartz's Orichalcos Knights) who decided that it was time he got what he really wants, which led to a match between the two at Bloody Adrenaline 2005. Souichi would face Rafael again in a rematch for the title at Ultimate Cartoon Survivor, but once again he would lose to Rafael. Then in December of 2005 at Apocalypse, Souichi and Gohan would lose the Tag Team titles to the team of Aang and Ben Tennyson. And during the match Gohan suffered a massive leg injury, placing him on the shelf and leaving Souichi in the singles division for the time being. But it still didn't effect him too much as he dominated during the first few months of 2006. He would appear at CartoonMania 27 to compete in a Ultimate Hardcore Title 24/7 Battle Royale, though managing to successfully claim it on four different occasions he was unable to hold onto it at the end of the night. Two weeks later on Extreme though, he would face off and defeat Spongebob Squarepants to capture the Intercontinental Championship for a 3rd time. Later on the following month, after successfully defending his Intercontinental Championship at Breakout 2006, he immediately began a feud with Diego Marquez after he attacked the animal rescuer after his match with Johnny Test. On the April 22nd edition of Extreme, Souichi would explain how he believes that little squirts like Diego and his pal Enrique don't belong in the same place with the big boys. For he finds them to not only be annoying little brats, but also finds them weak in comparison to top professionals like himself. However a week later Souichi found himself being tied to a metal beam in the garage during an ambush by Los Dos Latinos. And in the process the two boys stole both his car, and Intercontinental Championship. Souichi would not take this well at all as the following week after that ambush, he viciously attacked Enrique backstage while Diego was in a match. And when Diego came to help his friend, Souichi ambushed him as well while taking back the Intercontinental Championship belt. At Off the Edge 2006, when the two fought for the belt. Souichi would lose it to Diego after using the famous dirty tactics made famous by WWE legend Eddie Guerrero.
Feud over Respect, Face Turn Reuniting and Betrayal of Gohan, Long Hiatus (2006–2007) Edit
In July of 2006 Souichi had a brief feud with CAWF's latest new comer Jaden Yuki, who had been on a role over the past couple of weeks winning match after match. But Souichi didn't find them to be his best work, it was mostly just jobbers in the ring that wouldn't do much. And because of that, he has no respect for Jaden. But he offers him a match against one another at Full Throttle just to show how weak he truly is, which of course Jaden immediately accepted taking his chance to make big. And at the PPV, Souichi shockingly lost to Jaden after trying to apply the Walls of Sugano, but gets countered into Jaden's Skydive Headbutt. But apparently, when he thought he'd be angry or livid. He was actually impressed with how Jaden countered his submission finisher, this finally caused him to give Jaden a little respect. Not a lot, but still just a little either way. In late October, we would see Souichi reuniting with Gohan who had returned from his injury as they took part in a battle royal to determine the new Tag Team Championships, which they would not win. However, in March of 2007 Souichi turned face once again when he and Gohan began a feud with Zuko and Sasuke of Kaiba's Evolution over the Tag Team titles. The two teams squared off at CartoonMania 28 in a TLC match. And in the end Gohan and Souichi would win the titles and begin their second reign. Though their reign quickly ended on the Brawl after CartoonMania when Zuko and Sasuke retained the titles after interference by Broly. The two boys were furious as they proceeded to win back their titles. But they failed to win them back in a 3rd match with Zuko and Sasuke at Breakout 2007.
They then proceeded to try and earn another shot at the titles by winning a tag team elimination royale tournament. But shockingly lost in the first match of the tournament against the winning team of that match Ed & Edd. While they worked in the Tag Team division, Souichi would go on to winning his fourth Intercontinental Championship. His reign lasted until Wrestling King 2007 when he and Gohan were actually placed in a one on one match against each other and in the end Gohan won, after the match when it looked like the two would shake hands for good sportsmanship, Gohan hit Souichi with a lowblow, then strikes him in the skull with the title belt. Later in the week on Extreme, although Souichi was still a bit shaken by what transpired at the PPV. He tried to shake it off and focus on his match tonight. Later on during his Falls Count Anywhere match with Paul (Pokemon) The two were fighting on the stage. And after Souichi strikes with an eX-Sault. He tried to go for a win, but that's when Gohan came out and viciously attacked Gohan, and then threw him off the stage through the tables and electrical wires. And for sudden added insult, he climbed down from the stage. And used his strength to lift an electrical boom box and slam it into Souichi, thus not only officially ending their Tag Team alliance. But this caused Souichi to be taken off CAWF TV for a long hiatus. (In reality, this was done so he could catch up on his duties as an eX-Driver and have some time off. And he chose Gohan to help set the stage for it, since they are good friends outside the ring)
The 2nd Coming of Y2S and Various Feuds (2009–2010) Edit
During late January to early February of 2009, vignettes of a 2nd coming appeared each week, up until CAWF No Escape 2009. At the PPV, just after Gohan defeated Diego Marquez to retain the Intercontinental Championship (Who was currently in his 2nd reign). The final vignettes of the 2nd coming was shown, and de-coded the name of this 2nd coming labeled. 'Y..TWO..S' After the countdown, Souichi would make his long awaited return to CAWF as he approached the ring and brawled with Gohan as he had waited all year for payback, and lays out the saiyan with his newest finisher the eX-Breaker (The original name of his Max Drive finisher). This resulted in the two of them having a match against each other at CartoonMania 30 which ended with Gohan winning after taking the belt and striking Souichi in the skull with it while the ref was down and out. However their rivalry didn't end there as they faced off once more in a rematch for the title at Off the Edge 2009 in the 1st ever Street Fight Death Match. Where the only way to win is by a complete knockout. At the PPV and in the match itself, these two fought all over the entire arena, leaving nothing un-damaged at all. They threw everything they could at one another, they practically tried to kill one another. But in the end, Souichi would pick up a big win after first throwing Gohan off from the top of the Titantron and to the concrete, then jumps off from the top himself and delivers a massive elbow drop right into the heart of Gohan. This gave Souichi his start to a fifth reign as Intercontinental Champion, and ending this long awaited rivalry between the two.
After successfully defending his Intercontinental Championship over the past few months, especially after SummerBrawl. He found himself as the newest target by the rising CAWF Superstar, The Cartoon Killer Leo. For many months he had been taking out each CAWF Legend in this business, and Souichi was the next target on his hit list. So the two were scheduled to face off at Mental Assault with Souichi picking up the victory, but Leo would not quit so easily as he continued to hunt down and take down Souichi. Which led to their 2nd match at Bloody Adrenaline, this time with Souichi putting his Intercontinental Championship, but once again Souichi would come out with a victory over the Cartoon Killer. But at CAWF Apocalypse 2009 though, Souichi would lose the title to Leo in a ladder match after Leo RKO'd him off the top of the ladder and down to the floor below.
With 2010 coming in, Souichi immediately qualified for a spot in the Battle Rumble match, getting the all important number 30. At the Battle Rumble PPV, Souichi manage to last all the way to the final two before he got eliminated by Flip Chan. Immediately afterwards, Souichi participated and won a qualification match to enter the CAWF's 3rd ever Hyperbolic Steel Chamber Match for the CAWF Championship at No Escape. He would be joined by the current holder of the belt at the time Garra, Zuko, Rolf, Big Brother, and Homer Simpson. At the PPV he was one of the four participants to be sealed with a capsule, and was the 3rd to be released from one. But ultimately got eliminated by Rolf after a Barbaric Kick to the head. Afterwards he would appear at CartoonMania 31, but not in a wrestling event. Instead he would take part in the premiere of his in-ring segment called The Y2S Garage where his first guest ever Goku talked about the amazing legacy of CartoonMania, though would be interrupted by Vegeta. In the end Souichi would have his last laugh in this by hitting an ex-Breaker onto the Prince of all Saiyans. After this Souichi would disappear from CAWF once again for a while.
In June of 2010, Souichi would return to the CAWF and qualify for a spot in the yearly Wrestling King Tournament, as he defeated Johnny Test in the qualifying round on Brawl. The following week, in the 1st round of the tournament, he faced off against Dr. Eggman, but lost via pinfall after being knocked out by Dr. Doofenshmirtz who at the time had an alliance with Eggman. This led to a handicap match at CAWF Full Throttle, and in the match he managed to get under their skins and cause Doofenshmirtz and Eggman to not get along and have doubts about each others strategies, this led to Souichi locking Doofenshmirtz into the Walls of Sugano and pick up a submission victory. In late September, Souichi entered a rivalry with Flip Chan after becoming the #1 contender for the CAWF World Heavyweight Championship, and over the next few weeks. These two kept trying to prove one another on who is more hardcore, because of this. At the PPV Bloody Adrenaline 2010, these two had their match for the World Heavyweight Championship in a No Holds Barred match. And even though Souichi launched every type of hardcore tactic at Flip like tossing him into the thumbtacks, shredding his face with Barbed wire, sending him through a burning table, and even whacked him in the skull with a stop sign. It still was not enough as Flip would deliver his devastating Chan Terminator (Van Daminator Finisher) onto Souichi with the chair in the way, to retain the title. At the Ultimate Cartoon Survivor, he was chosen to be a member of Ash's team dubbed Ash's Trainers to face off against Peter's team dubbed The Alcoholics. At the Ultimate Cartoon Survivor, Souichi would go on to win the match for his team by being the soul survivor after eliminating team captain Peter Griffin.
WWE: AnimatedEdit
Personality
Edit
Personal Life
Edit
Souichi is currently the boyfriend of current UCA Women's champion Lightning Farron. He is also considered to be a sort of 'father figure' within the Rookie Revolution, especially towards the younger members.
In Wrestling
Edit
Finishing Moves
Edit
Max Drive (Double Knee Facebreaker)
Walls of Sugano (Elevated Boston Crab)
Signature Moves
Edit
eX-Sault (Springboard Moonsault)
Nicknames
Edit
Entrance Themes
Edit
"Break The Walls Down" By Adam Morenoff (CAWF)
"It's A New Day" By Adelitas Way (WWE)
"Architects" by Rise Against (used with the Rookie Revolution)
Championships and Accomplishments
Edit
Cartoon Anime Wrestling FederationEdit
CAWF Championship (2 times)
CAWF Intercontinental Championship (5 times)
CAWF Hardcore Championship (4 times)
CAWF Cruiserweight Championship (1 time)
CAWF Tag Team Championship (2 times) – with Son Gohan
Battle Rumble (2005)
CAWF Grand Slam Champion
CAWF Triple Crown Champion (2 times)
Ad blocker interference detected!
Wikia is a free-to-use site that makes money from advertising. We have a modified experience for viewers using ad blockers

Wikia is not accessible if you've made further modifications. Remove the custom ad blocker rule(s) and the page will load as expected.