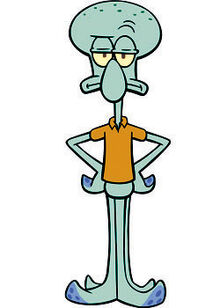 Squidward Tentacles is a major character from the Nicktoon SpongeBob SquarePants. He is an octopus who lives in Bikini Bottom and works as a cashier at the Krusty Krab, a job he utterly loathes. He is selfish and displays a high degree of superiority, and is also delusional about his talents as, among other things, an artist and a clarinet player, though no one around him considers him to be any good. Though he loathes SpongeBob SquarePants, SpongeBob considers him a close friend, often leading to him being dragged along on his misadventures.
In Fiction Wrestling, Squidward is currently signed to WWT and CWA. He is a member of the Rookie Revolution.
Background
Edit
Wrestling career
Edit
Personality
Edit
Personal Life
Edit
In Wrestling
Edit
Finishers
Edit
Clarinet Piledriver (Piledriver)
Octopus Stretch (Triangle choke)
Signatures
Edit
Nicknames
Edit
Entrance Themes
Edit
Championships & Accomplishments
Edit
Ad blocker interference detected!
Wikia is a free-to-use site that makes money from advertising. We have a modified experience for viewers using ad blockers

Wikia is not accessible if you've made further modifications. Remove the custom ad blocker rule(s) and the page will load as expected.