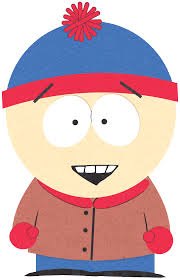 Stanley "Stan" Marsh is one of the four main characters of the adult animation series South Park. He is often considered the leader of the four mains, as well as the show's main protagonist, with Kyle being the second protagonist, though the roles are often switched. Due to this, he is often the one with the most common sense, though he himself is guilty of strange and irrational behavior.
In Fiction Wrestling, Stan is currently signed to CWF, CWA and XCW. He often competes alongside the other South Park mains as the South Park Four.
Background
Edit
Series: South Park
Species: Human
Age:
Height:
Weight:
Companies: (Currently) XCW, CWA, CWF, UCW (Formerly) UCA
Debut:
Status: Active
Billed from: South Park, Colorado
Allies: South Park Four (Eric Cartman, Kyle Broflovski, Kenny McCormick)
Rivals: The Eds (Ed, Edd and Eddy), Mario Bros. (Mario and Luigi), Knighthood of Assassins (Hotsuma, Scorpion, Sub-Zero, Needles 'Sweet Tooth' Kane, Daffy Duck)
Twitter:
Wrestling Career
Edit
Personality
Edit
Personal Life
Edit
In Wrestling
Edit
Finishers
Edit
Sharpshooter
South Park Stunner (Stunner)
Signatures
Edit
Nicknames
Edit
Entrance Themes
Edit
"South Park Theme" by Primus
"What Would Brian Boitano Do?" by DVDA
Championships and Accomplishments
Edit
Ad blocker interference detected!
Wikia is a free-to-use site that makes money from advertising. We have a modified experience for viewers using ad blockers

Wikia is not accessible if you've made further modifications. Remove the custom ad blocker rule(s) and the page will load as expected.