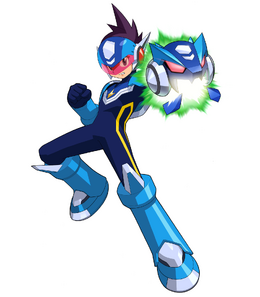 Starforce Megaman, real name Geo Stelar, is the main protagonist of the Mega Man Star Force series of Mega Man spin-off games. In the games, he reluctantly joins forces with an alien Omega-Xis, to foil evil plots, led by Omega-Xis' own kind and many other enemies, as he tries to find out what really happened to his father, and ultimately change his depressing lifestyle.
In Fiction Wrestling, Starforce currently competes for Universal Character Association (UCA). Though he started as a face, he is currently known for his 'Gaming Killer' gimmick, ending the legacies and careers of older video game characters that he considers past their prime. He is also known as a member of the Rookie Revolution.
Background
Edit
Wrestling career
Edit
Universal Character AssociationEdit
Debut (2012)Edit
Heel turn, Gaming Killer (2012 - current)Edit
Personality
Edit
Starforce is a cocky and arrogant, but also very dangerous and vicious individual. Once he sets his mind to a goal, he will stop at nothing to achieve it, particularly when said goal is the termination of a Gaming character's legacy and career.
Personal Life
Edit
Starforce is currently the boyfriend of CCW wrestler and fellow RR member Zoe Payne. He also acts as a surrogate big brother to younger RR member Lee Harper.
In Wrestling
Edit
Starforce's wrestling style focuses mainly on targeting an opponent's body part and picking it apart.
Finishers
Edit
Giga Crush (Front Flip Piledriver)
Punt Kick
Signatures
Edit
SFKO (Inverted RKO)
Mega Impact (Rope-Hung DDT) 
Cradle DDT
Backcracker
Hangman's Neckbraker
Enziguri
Spinning Backfist
Snap Suplex
Snap Powerslam
Diving Crossbody
Nicknames
Edit
Entrance themes
Edit
"Burn In My Light" by Mercy Drive
Championships and Accomplishments
Edit
Universal Character AssociationEdit
Ad blocker interference detected!
Wikia is a free-to-use site that makes money from advertising. We have a modified experience for viewers using ad blockers

Wikia is not accessible if you've made further modifications. Remove the custom ad blocker rule(s) and the page will load as expected.