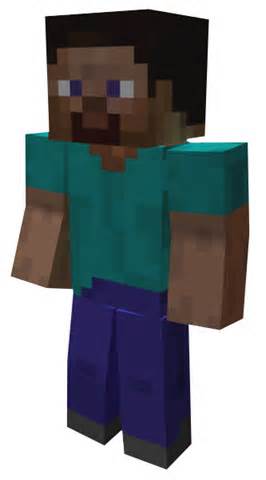 Steve is the character that users control in the video game Minecraft, and is generally considered the unofficial main protagonist of the game. Steve is the default player look, a name suggested by Notch as a joke, and is confirmed on the 'Profile' page near the section that allows you to change your skin.
In Fiction Wrestling, Steve currently competes in FWE.
Background
Edit
Series: Minecraft
Species: Human
Age: ?
Height: ?
Weight: 175 pounds
Companies: (Currently) FWE
Debut: 2014
Status: Active
Allies: None
Rivals: None
Twitter: @DiamondMiner
Personality
Edit
Even if in-game Steve is generally mute, in the Multiverse he can talk on his own, with a voice similar to the ones used by Create-A-Wrestlers during the SvR 2011 Road To WrestleMania, and he has even developed a charismatic personality.
Steve always stands up for the others, and has a tough personality. However, he can also be a bit shy, and he prefers pacific places. In FWE, he has recently adopted a gimmick where he imitates other wrestlers, both real and fictional, down to the entrance music and ring gear.
Personal Life
Edit
Debut on RiseUp! (February 2017)
Edit
In Wrestling
Edit
Switch And Bait (Double Underhook Reverse Facebuster)
Signatures
Edit
Diamonds Are Forever (Falling Reverse DDT)
Entrance Themes
Edit
"Just Close Your Eyes" by Story Of The Year (2014-Present; SPWA)
Achievements
Edit