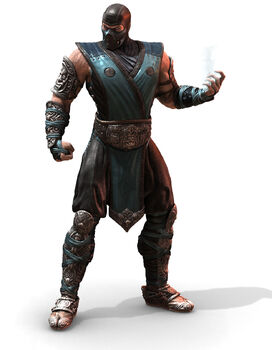 Sub-Zero, real name Kuai Liang, is one of the main characters of the Mortal Kombat fighting game series. He is a Lin Kuei assassin who debuted in Mortal Kombat II, initially seeking to kill Scorpion to avenge the murder of his brother (the original Sub-Zero who later became Noob Saibot). Later, he broke away from his Lin Kuei brethren and became a dependable, if enigmatic, warrior of Earthrealm. He is one of the most popular characters in the franchise, and is often depicted as the fierce rival of Scorpion.
In Fiction Wrestling, Sub-Zero is currently signed to Ultimate Wrestling Entertainment (UWE), Cartoon Wrestling Alliance (CWA), and Xtreme Cartoon Wrestling (XCW).
Background
Edit
Series: Mortal Kombat
Species: Human/Cyromancer
Age:
Height:
Weight:
Debut:
Status: Active
Billed from: Earthrealm
Allies: Scorpion, Knighthood of Assassins (Hotsuma, Solid Snake, Needles 'Sweet Tooth' Kane, Daffy Duck)
Rivals: Scorpion (historically), Woodcrest's Most Wanted (Ed Wuncler III and Gin Rummy)
Twitter: @LinKueiGrandmaster
Wrestling Career
Edit
Ultimate Wrestling EntertainmentEdit
Xtreme Cartoon WrestlingEdit
Cartoon Wrestling AllianceEdit
Personality
Edit
Personal Life
Edit
In Wrestling
Edit
Finishing Moves
Edit
Bed of Ice (Double Underhook Brainbuster)
Moonsault Senton
Signature Moves
Edit
Blizzard Bomb (High-angle Senton Bomb)
Nicknames
Edit
"The Lin-Kuei Grandmaster"
Entrance Themes
Edit
"World So Cold" by Three Days Grace (CWA)
"Unstable" by Adema (XCW)
"Coming Home" by Alter Bridge (UWE)
Championships and Accomplishments
Edit
Cartoon Wrestling AllianceEdit
Ultimate Wrestling EntertainmentEdit
UWE Galaxy Championship
UWE Duos Championship (5 times) — with Scorpion
UWE X-Treme Championship
UWE High Flyin' Championship
Xtreme Cartoon WrestlingEdit
Ad blocker interference detected!
Wikia is a free-to-use site that makes money from advertising. We have a modified experience for viewers using ad blockers

Wikia is not accessible if you've made further modifications. Remove the custom ad blocker rule(s) and the page will load as expected.