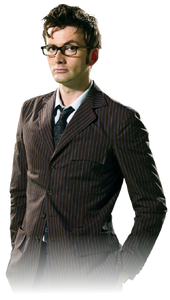 The
Tenth Doctor
is an incarnation of the Doctor, the protagonist of the BBC science fiction television program
Doctor Who
. In the program's narrative, the Doctor is a centuries-old Time Lord alien from the planet Gallifrey who travels in time in his TARDIS (Time and Relative Dimension In Space), frequently with companions. When the Doctor is critically injured beyond medical repair, he can regenerate his body; in doing so, his physical appearance and personality change.
In the Fiction Wrestling Multiverse (FWM), the Tenth Doctor is a professional wrestling commentator. He is currently signed to Northern Carnage Wrestling (NCW), where he serves as the play-by-play commentator on both Prime and Electric brands.
Background
Edit
Professional Wrestling Career
Edit
Northern Carnage Wrestling (2014–present) Edit
After weeks of rumors speculating around NCW's One Year Anniversary, the Doctor debuted as commentator to the dismay of the Nostalgia Critic, who believed Joey Styles was trying to replace him. Over the weeks, the three commentate with various arguments between him and the Nostalgia Critic.
Personal Life
Edit
When not commentating The Doctor is usually traveling around the Multiverse in the TARDIS, but occasionally sits down and talks to various people he knows and heard about.
In Wrestling
Edit
Awards and Accomplishments
Edit
Did you know there is also a cartoon version of the Tenth Doctor?