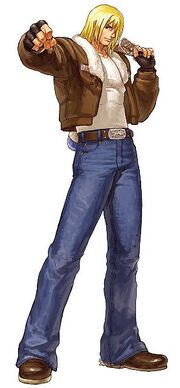 Terry Bogard is a video game character created by SNK, and is the main character of the Fatal Fury series. He has appeared in every Fatal Fury and King of Fighters game, and is one of the characters of choice to symbolize the company in crossover games, merchandise and publicity. He appears to fit many Japanese stereotypes for an American character in appearance, personality and speech (his in-game vocabulary is usually limited to American colloquialisms, such as "Okay!" and "Hey, c'mon, c'mon.").
In Fiction Wrestling, Terry's currently working in XCF, as well as being a Hall of Famer in UWE.
Background
Edit
Series: Fatal Fury
Species: Human
Age:
Height:
Weight:
Companies: (Currently) XCF
Debut:
Status:
Billed from:
Allies:
Rivals:
Twitter:
Wrestling Career
Edit
Personality
Edit
In Wrestling
Edit
Finishers
Edit
Signatures
Edit
Nicknames
Edit
Entrance Themes
Edit
Championships and Accomplishments
Edit
Ad blocker interference detected!
Wikia is a free-to-use site that makes money from advertising. We have a modified experience for viewers using ad blockers

Wikia is not accessible if you've made further modifications. Remove the custom ad blocker rule(s) and the page will load as expected.