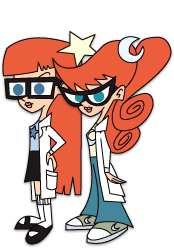 The Test Twins consists of Susan Test and Mary Test, 13-year-old super geniuses from the Canadian/American animated television series Johnny Test. They are the identical twin sisters of the eponymous character Johnny Test, frequently using their brother as a lab rat. They are also known for the crushes they harbor for their neighbor Gil Nexdor.
In Fiction Wrestling, the Test Twins are signed to Character Championship Wrestling (CCW), most known for being members of the Brain Trust stable.
Background
Edit
Formation: CCW XX 20
Companies: CCW
Series: Johnny Test (both)
Combined weight: 250 lbs
Status: Active
Allies: The Brain Trust (Jimmy Neutron, Dmitri Petrovich and Dexter)
Rivals: 
Wrestling career
Edit
The Brain Trust Edit
Main article: The Brain Trust
Susan and Mary Test made their CCW debut on CCW XX 20, attacking Puffy AmiYumi for their incorrect pronoun usage in a pre-match conversation they had with Xena. The Test Twins would then perform the Brain Trust's signature pose and leave the scene with Jimmy Neutron, Dexter and Dmitri Petrovich, solidifying their allegiance with them.
In wrestling
Edit
Double-team finishing moves
Edit
Dudley's Theorem (Flapjack / Cutter combination)
Double-team signature moves
Edit
Commutator (Double Inverted Brainbuster)
Susan and Mary's finishers
Edit
Almagest (Hangman's Neckbreaker spun into an Inverted Cravate Facebuster)
Susan and Mary's signatures
Edit
Convergence (Leg Sweep DDT)
Horseshoe Lemma (Inverted Indian Death Lock)
Nicknames
Edit
Entrance Themes
Edit
"Wreaking Havoc" by Dale Oliver
Championships and accomplishments
Edit