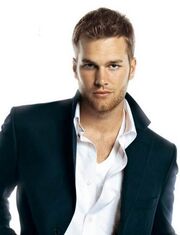 "I'M TOM BRADY AND I'M AWESOME!"
Thomas Edward Patrick "Tom" Brady, Jr. is an American football player playing in the National Football League (NFL) at the position of quarterback for the New England Patriots. Brady has won four Super Bowls with the Patriots--in 2001, 2003, 2004 and 2015--as well as three Super Bowl MVP awards, eight Pro Bowl bids, and several other achievements.
Brady has parlayed his NFL success into a Fiction Wrestling career that has also resulted in positive results; he is a former CCW Universal Champion, having held the belt for 168 days.
Background
Edit
Series - Real life
Species - Human
Age - 37
Height - 6'4"
Weight - 225 pounds
Companies - (Currently) CCW, WWE: Animated, GPW
Debut - CCW Year 1
Status - Active
Billed from - San Mateo, California
Allies - Ron Gronkowski, Tim Tebow, Jonathan Manziel, LeBron James, Sidney Crosby, Bryce Harper, Bill Belicheck (manager)
Rivals - Jeremy Ellis, Dan Kuso, Crash Bandicoot, El Blaze, Sportacus, Shaquille O'Neal, Kid Buu, Jesse Alvarez, Tai Kamiya, DigiDestined, Ben Tennyson
Twitter - @CCW_MVMVP
Wrestling career
Edit
Character Championship WrestlingEdit
Debut (Ozone 2 - Altitude)Edit
Universal Champion (Ozone 5 - Ozone 31)Edit
World Wrestling EntertainmentEdit
Personality
Edit
Personal Life
Edit
In wrestling
Edit
Finishing moves
Edit
Illegal Holding (Inverted Sharpshooter / Haas of Pain combination) - WWE
PAT – Point After Touchdown (Running Punt Kick to an opponent's head)
Personal Foul (Cobra Clutch Slam)
Signature moves
Edit
Big Boot to a seated opponent
Boston Crab
Death Valley Driver
Dropkick
Electric Chair Facebuster
Flea Flicker (Backbreaker Rack spun into Samoan Drop)
Multiple Suplex variations

Belly-to-Belly
Bridging Fisherman
Super
T-Bone, sometimes from the top rope

Powerslam
Running Clothesline
Running Kneelift
Running Leg Drop
Russian Leg Sweep
Slingshot Somersault High-Angle Senton to an opponent outside of the ring
Touchdown Splash (Running Corner Slingshot Splash)
Turnbuckle Powerbomb
Championships and Accomplishments
Edit
Character Championship WrestlingEdit
Fanfiction Wrestling AwardsEdit
Mid-Card Match of the Year (2012) - vs. Dan Kuso at Jackp​ot
Former Mid-Card Champion of the Year (2012)
Pro Wrestling IllustratedEdit
PWI ranked him #5 in the PWI 500 (2012)
PWI ranked him #31 in the PWI Fiction 50 in 2013
Wrestling Observer NewsletterEdit
5 Star Match (2012) - vs. Dan Kuso at Jackpot
Brady uses an animated form taken from the video game Backyard Football when competing in Animated.
Ad blocker interference detected!
Wikia is a free-to-use site that makes money from advertising. We have a modified experience for viewers using ad blockers

Wikia is not accessible if you've made further modifications. Remove the custom ad blocker rule(s) and the page will load as expected.