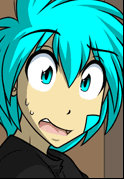 Trace Legacy is the protagonist of the long running webcomic Twokings, in which he is the former ruler of the fantasy world of Mekken. Due to suffering amnesia after being overthrown, he restarted his life and try to find a peaceful place to settle down, while also fighting off the evil of the world.
In the Fiction Wrestling Multiverse, Trace is currently competing in the Indylympics along with his fiancee Flora in the mixed tag team category.
Background:
Edit
Series: Twokinds
Species: Human
Age: 24
Height: 5'11
Weight: 186 lbs.
Companies:
Debut: 2016
Status: Pending Debut
Billed From: Mekken
Allies: Flora, Keith Keiser
Rivals:
Twitter: @BlueHaired_Legacy
Indylympics
Edit
Personality:
Edit
Personal Life:
Edit
In Wrestling:
Edit
Championships & Accomplishments:
Edit
Ad blocker interference detected!
Wikia is a free-to-use site that makes money from advertising. We have a modified experience for viewers using ad blockers

Wikia is not accessible if you've made further modifications. Remove the custom ad blocker rule(s) and the page will load as expected.