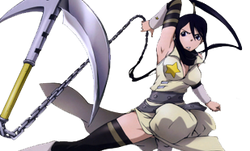 Tsubaki Nakatsukasa is a Demon Weapon and a main character from the Manga/Anime Soul Eater. As a Demon Weapon, she possesses the ability to transform into a weapon that can be used by a Meister, in her case Black☆Star.
In the Fiction Wrestling Multiverse (FWM), Tsubaki is a professional wrestler currently signed to Championship Extreme Wrestling (CEW), Northern Carnage Wrestling (NCW), WCW: Showdown and GAIA Women's Athletes.
Background
Edit
Series: Soul Eater
Species:
Age: 17
Height:
Weight:
Billed from: Death Weapon Meister Academy
Debut:
Companies: (Currently) NCW, CEW, WCW: Showdown/NXT, GAIA (formerly) CXWE
Allies: Kotonoha Katsura (girlfriend), Korra, Black☆Star, DXP, Jesse Alvarez
Rivals: Velvet House, Lillian House, Jazz Fenton, The Four Horsewomen
Twitter: @TheSecondStar
Wrestling Career
Edit
Northern Carnage Wrestling Edit
Partnership With CXWE (2013) Edit
Midcard (2014–2015) Edit
Feud with Four Horsewomen (2016) Edit
World Women's Champion (2017–present) Edit
Championship Extreme Wrestling (2014–present) Edit
Tsubaki along with majority of the CXWE roster resigned for the newly created CEW (self-entitled CEW: Reborn). She is shown to be currently teaming up with Ninja Gaiden's Momiji as the two formed a Tag Team.
WCW: Showdown Edit
GAIA Women's Athletes Edit
Personality
Edit
Personal Life
Edit
In Wrestling
Edit
Majority of Tsubaki's moves seem to be lucha-libre inspired with the gimmick of an Extremist down the way. Although she has proven to take a few hard hits here and there.
Finishing moves
Edit
Starbreaker (Double Knee Facebreaker) – CEW / NCW
Signature moves
Edit
Nicknames
Edit
Managers
Edit
Entrance themes
Edit
"Resonance" by T.M. Revolution (NCW; 2013 – 2016)
"Resonance" by Nathan Sharp (NCW; 2017 – present)
Championships and Accomplishments
Edit
Ad blocker interference detected!
Wikia is a free-to-use site that makes money from advertising. We have a modified experience for viewers using ad blockers

Wikia is not accessible if you've made further modifications. Remove the custom ad blocker rule(s) and the page will load as expected.