Tsubaki Nakatsukasa is a Demon Weapon and a main character from the Manga/Anime Soul Eater. As a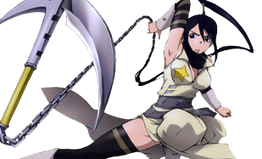 Demon Weapon she possesses the ability to transform into a weapon that can be used by a Meister, in her case Black☆Star.
In the FWM Tsubaki currently works for CEW, NCW, WCW: Showdown and GAIA Womens Athletes.
Background
Edit
Series: Soul Eater
Species:
Age: 17
Gender: Female
Height:
Weight:
Billed From: Death Weapon Meister Academy
Debut:
Companies: (Currently) NCW, CEW, WCW: Showdown/NXT, GAIA (formerly) CXWE
Allies: Jesse Alvarez, Korra, Black☆Star, DXP, Kotonoha Katsura (girlfriend)
Rivals: Velvet House, Lillian House, Jazz Fenton, Four Horsewomen
Twitter: @TheSecondStar
Partnership With CXWE (2013) Edit
Midcard (2014-2015) Edit
Feud With Four Horsewomen (2016) Edit
World Women's Champion (2017-present) Edit
(2014-)
Tsubaki along with majority of the CXWE Roster resigned for the newly created CEW (self entitled CEW:Reborn). She is shown to be currently teaming up with Ninja Gaiden's Momiji as the two formed a Tag Team.
WCW: ShowdownEdit
Personality
Edit
Personal Life
Edit
In Wrestling
Edit
Majority of Tsubaki's moves seem to be lucha-libre inspired with the gimmick of an Extremist down the way. Although she has proven to take a few hard hits here and there.
Finishing Moves
Edit
Starbreaker (Double Knee Facebreaker) (CEW/NCW)
Signature Moves
Edit
Nicknames:
Edit
Managers:
Edit
Theme Songs:
Edit
"Resonance" by T.M. Revolution (NCW;2013-2016)
"Resonance" by Nathan Sharp (NCW; 2017-present)
Championships & Accomplishments:
Edit
NCW World Women's Championship (1 time, current)
Ad blocker interference detected!
Wikia is a free-to-use site that makes money from advertising. We have a modified experience for viewers using ad blockers

Wikia is not accessible if you've made further modifications. Remove the custom ad blocker rule(s) and the page will load as expected.