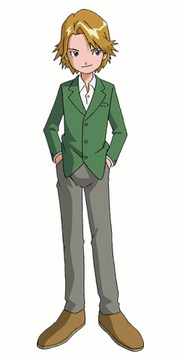 The
UCA World Heavyweight Championship
title is the World Championship title of
Universal Character Association
.
The first ever champion was Daffy Duck, who won an eight man tournament to be crowned inaugural champion.
In 2005, the title was briefly retired after then champion Blue Oak literally threw down the belt, creating the Universe Heavyweight Championship to replace it. The belt was brought back at Royal Reckoning the following year and won by Red, who later unified the belt with the Universe Heavyweight title at Final Clash that same year, retiring the later belt in the process.
The current reigning champion is Yamato 'Matt' Ishida, who is in his first reign with the title after beating defending champion Super Mario at Final Clash.
| # | Wrestlers | Reign | Time held | Successful defenses | Event | Notes |
| --- | --- | --- | --- | --- | --- | --- |
| 1 | Daffy Duck | 1 | 3 months | 3 | First-ever UCA Show | Won the title in an eight-man tournament to become first-ever champion |
| 2 | Bugs Bunny | 1 | 6 months | 8 | Final Clash 1990 | |
| 3 | Shredder | 1 | 6 months | 6 | UCA Prime Wrestling | |
| 4 | Warrior (Final Fantasy I) | 1 | 4 months | 3 | Final Clash 1991 | |
| 5 | Link | 1 | 3 months | 4 | | |
| 6 | Ganondorf | 1 | 5 months | 5 | | |
| 7 | Sonic the Hedgehog | 1 | 8 months | 11 | Final Clash 1992 | |
| 8 | Garland | 1 | 4 months | 5 | | |
| 9 | Spider-Man | 1 | 4 months | 4 | Final Clash 1994 | |
| 10 | Bugs Bunny | 2 | 9 months | 13 | | |
| 11 | Mario | 1 | 3 months | 3 | Final Clash 1994 | |
| 12 | Hercules | 1 | 9 months | 15 | UCA Monday Night Flame | |
| 13 | Aladdin | 1 | 5 months | 4 | Final Clash 1995 | |
| 14 | Vegeta | 1 | 10 months | 9 | Summer Brawl 1995 | |
| 15 | Son Goku | 1 | 4 months  | 1 | | |
| 16 | Android 17 | 1 | 5 months | 4 | | |
| 17 | Son Gohan | 1 | 5 months | | Final Clash 1997 | |
| 18 | Trunks | 1 | 1 day | 0 | Summer Brawl 1997 | |
| 19 | Android 17 | 2 | 2 months | 1 | UCA Monday Night Flame | |
| 20 | Son Goku  | 2 | 2 months | 2 | | |
| 21 | Android 17 | 3 | 1 months | 1 | | |
| 22 | Link | 2 | 5 months | 4 | Royal Reckoning 1998 | |
| 23 | Kefka Palazzo | 1 | 10 months | 9 | Revolution 1998 | |
| 24 | Spongebob Squarepants | 1 | 5 months | 4 | Final Clash 1999 | |
| 25 | Wolfgang | 1 | 4 month | 3 | Summer Brawl 1999 | |
| 26 | Yugi Muto | 1 | 2 months | 1 | Ragnarok 1999 | |
| 27 | Blue Oak | 1 | 1 months | 0 | Last Stand 2000 | |
| 28 | Red | 1 | 11 months | 11 | Final Clash 2000 | |
| 29 | Sephiroth | 1 | 1 month | 0 | Last Stand 2001 | |
| 30 | Cloud Strife | 1 | 4 months | 3 | Final Clash 2001 | |
| 31 | Jecht | 1 | 2 months | 1 | Total Impact 2001 | |
| 32 | Red | 2 | 3 months | 2 | Breakdown 2001 | |
| 33 | Sephiroth | 2 | 4 months | 3 | Ragnarok 2001 | |
| 34 | Master Chief | 1 | 4 months | 3 | Revenge of the Fallen 2002 | |
| 35 | Sonic the Hedgehog | 2 | 3 months | 2 | Summer Brawl 2002 | |
| 36 | Red | 3 | 4 months  | 4 | Survival Games 2002 | |
| 37 | Gold | 1 | 4 months | 3 | Final Clash 2003 | |
| 38 | Shobu Kirufuda | 1 | 1 months | 0 | Total Impact 2003 | |
| 39 | Gold | 1 | 3 months | 2 | Summer Brawl 2003 | |
| 40 | Red | 4 | 3 months | 2 | Survival Games 2003 | |
| 41 | Jecht | 2 | 1 month | 0 | Last Stand 2004 | |
| 42 | Invader Zim | 1 | 3 months | 2 | Final Clash 2004 | |
| 43 | Blue Oak | 2 | 2 months | 2 | Revolution 2004 | |
| 44 | Cloud Strife | 2 | 1 month | 0 | Summer Brawl 2004 | |
| 45 | Spongebob Squarepants | 2 | 2 months | 2 | Breakdown 2004 | |
| 46 | Gold | 3 | 4 months | 3 | Survival Games 2004 | |
| 47 | Blue Oak | 3 | 1 months | 1 | Final Clash 2005 | |
| | VACANT | | | | | Blue threw down the Universe Title the night after Revenge of the Fallen 2005, creating the Universe Title in it's place. World Title remained vacant until Force brought it back at Royal Reckoning 2006. |
| 48 | Red | 5 | 5 months | 2 | Royal Reckoning 2006 | Won the World Title in the Royal Rumble Match at Royal Reckoning 2006; Unified World Title with Unvirse Title at Final Clash 2006 to become first-ever Undisputed World Champion in UCA. |
| 49 | Sonic the Hedgehog | 3 | 2 months | 2 | Revolution 2006 | |
| 50 | Sly Cooper | 1 | 4 months | 3 | Summer Brawl 2006 | |
| 51 | Fox McCloud | 1 | 3 months | 3 | Ragnarok 2006 | |
| 52 | Scourge the Hedgehog | 1 | 6 months | 5 | Final Clash 2007 | |
| 53 | Sonic the Hedgehog | 4 | 4 minutes, 37 seconds | 0 | Breakdown 2007 | |
| 54 | Ben Tennyson | 1 | 2 months | 1 | Breakdown 2007 | |
| 55 | Scourge the Hedgehog | 2 | 2 months | 2 | Survival Games 2007 | |
| 56 | Peter Griffin | 1 | 2 months | 1 | Royal Reckoning 2008 | |
| 57 | Eric Cartman | 1 | 2 months | 1 | Final Clash 2008 | |
| 58 | Shadow the Hedgehog | 1 | 1 months | 1 | War Zone 2008 | |
| 59 | Scourge the Hedgehog | 3 | 3 months | 2 | Revolution 2008 | |
| 60 | Shadow the Hedgehog | 2 | 2 months | 1 | Breakdown 2008 | |
| 61 | Scourge the Hedgehog | 4 | 2 months | 2 | Survival Games 2008 | |
| 62 | Blue Oak | 4 | 6 months | 7 | Royal Reckoning 2009 | |
| 63 | Red | 6 | 1 months | 0 | Total Impact 2009 | |
| 64 | Shadow the Hedgehog | 3 | 8 days | 0 | Summer Brawl 2009 | |
| 65 | Sephiroth | 3 | 2 months | 2 | UCA Monday Night Flame | |
| 66 | Jecht | 3 | 2 months |  1 | Survival Games 2009 | |
| 67 | Red | 7 | 2 months | 2 | Royal Reckoning 2010 | |
| 68 | Takuya Kanbara | 1 | 3 months | 3 | Final Clash 2010 | |
| 71 | Sly Cooper | 2 | 3 months | 2 | Revolution 2010 | |
| 72 | Pit | 1 | 4 months | 3 | Breakdown 2010 | |
| 73 | Cloud Strife | 3 | 1 months | 0 | Ragnarok 2010 | |
| 74 | Sephiroth | 4 | 2 months | 1 | Royal Reckoning 2011 | |
| 75 | Master Chief | 2 | 1 months | 0 | Final Clash 2011 | |
| 76 | Blue Oak | 5 | 2 months | 1 | Revenge of the Fallen 2011 | |
| 77 | Cloud Strife | 4 | 2 months | 1 | Total Impact 2011 | |
| 78 | Sora | 1 | 4 months | 3 | UCA Monday Night Flame | |
| 79 | Mario | 2 | 379+  | 12 | Royal Reckoning 2012 | |
| 80 | Matt Ishida | 1 | | | Final Clash 2013 | |
Statistics
Edit
| | | | |
| --- | --- | --- | --- |
| Record: | Record holder: | Record number: | Notes: |
| Most reigns | Red | 7 | Won his 7th World Heavyweight title at Royal Reckoning 2010. |
| Longest reign | Super Mario | 379 days+ | |
| Shortest reign | Sonic the Hedgehog | 4 minutes, 37 seconds | Won at Breakdown 2007 in an Elimination Chamber match; lost to Ben Tennyson cashing in Money in the Bank minutes later. |