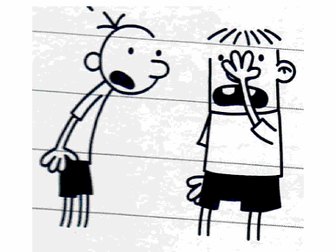 The World's Toughest Tag Team, formerly known as the Wimpy Kids, is a Fiction Wrestling tag team comprised of Greg Heffley and Rowley Jefferson, both from the Diary of a Wimpy Kid book and film series. They currently compete in WWE: Animated where they are the WWE Toon Tag Team champions, but unfortunately after many mishaps of them saying that they are better than the whole tag-teams in the Fiction Wrestling Multiverse, they lost the title to Tai and Matt, the Extreme Team (which they been around since the Attitude Era) which may effect their name. They are also known for being founding members of the T.R.U.T.H, and later, the Rookie Revolution. 
Background
Edit
WWE: AnimatedEdit
In Wrestling
Edit
Double Team Finishing Moves
Edit
Double Team Signature Moves
Edit
Nicknames
Edit
Entrance Themes
Edit
Championships and Accomplishments
Edit
WWE: AnimatedEdit
FanFiction Wrestling AwardsEdit
Ad blocker interference detected!
Wikia is a free-to-use site that makes money from advertising. We have a modified experience for viewers using ad blockers

Wikia is not accessible if you've made further modifications. Remove the custom ad blocker rule(s) and the page will load as expected.