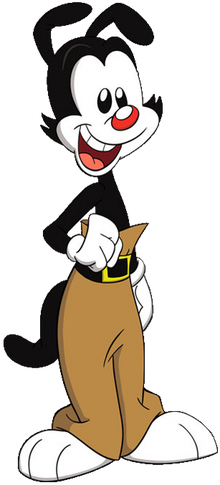 Yakko Warner is a main character from the Warner Bros animated series Animaniacs. He is the eldest of the Warner siblings, a trio of cartoon characters deemed so zany that they were locked away in the water tower on the Warner Brothers movie lot, though they frequently escape to cause mayhem. As his name suggests, Yakko is the most talkative of the three, and the most mature, though that's not saying much.
In Fiction Wrestling, Yakko is currently signed to Wrestling Next Door (WND) and TNA: Animation Action. He has also competed in WCW's Cartoon Division, and is a WWE Hall of Famer along with his siblings.
Background
Edit
Series: Animaniacs
Species: Cartoon Creature
Age: 13 (physically) Over 80 (Chronologically)
Height:
Weight: 222 lbs.
Companies: (Currently) WND, TNA: Animation Action (Formerly) WCW
Debut:
Status: Active
Billed from: Burbank, California
Allies: Wakko Warner (brother), Dot Warner (sister), Bugs Bunny, Most of the Looney Tunes, Annie Frazier (girlfriend)
Rivals:
Twitter: @SmartWarnerBro
Wrestling career
Edit
TNA: Animation ActionEdit
Wrestling Next DoorEdit
Personality
Edit
Personal Life
Edit
In Wrestling
Edit
Finishers
Edit
Goodnight Nurse (Fireman's carry dropped into a knee lift)
That's All Folks! (Arm-trap triangle choke)
Signatures
Edit
Anvil Drop (Diving leg drop)
Roundhouse kick
Reverse roundhouse kick, preceeded by a kiss on the opponent's nose – parodied from Annie Frazier
Yak-O-Matic (Sitout rear mat slam) – parodied from Edge
Nicknames
Edit
Entrance themes
Edit
"Turn Up The Trouble" by Airbourne
Championships and Accomplishments
Edit
1x World Champion
2x US Champion
2x Tag Champion (w/ Wakko Warner)
1x TV Champion
1x Hardcore Champion
Grand Slam Winner
TNA: Animation Action Edit
Ad blocker interference detected!
Wikia is a free-to-use site that makes money from advertising. We have a modified experience for viewers using ad blockers

Wikia is not accessible if you've made further modifications. Remove the custom ad blocker rule(s) and the page will load as expected.