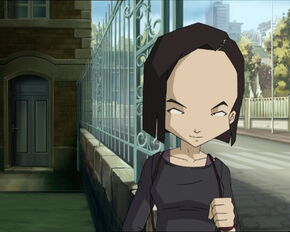 Yumi Ishiyama is one of the protagonists of the French animated series Code Lyoko. The oldest of the original members of the Lyoko Warriors, Yumi is considered the maturest in the group, taking care of the younger members. She is the romantic interest of Ulrich Stern and the closest friend of Aelita Schaeffer. Formerly signed to World Wrestling Entertainment: Animated (WWE: Animated), she is currently signed to Character Championship Wrestling (CCW), having made her debut on the the premiere of the two-hour CCW XX on XX 20.
Background
Edit
Series: Code Lyoko
Species: Human
Age: 15
Height: 6'0"
Weight: 150 lbs
Companies: (Currently) CCW, (Formerly) WWE: Animated
Debut: 
Status: Active
Billed from: Paris, France by way of Kyoto, Japan
Allies: The X-Factors,
Rivals: Aelita, Dora the Explorer, Sailor Moon
Twitter: @Yumi_Code_Lyoko
Wrestling career
Edit
WWE: Animated Edit
Character Championship Wrestling Edit
After a several-year hiatus from Fiction Wrestling in North America, Yumi Ishiyama made a surprise return to Fiction Wrestling, making her in-ring CCW debut on CCW XX 20 as a mystery opponent for Aelita.
Personality
Edit
Personal Life
Edit
In wrestling
Edit
Having reportedly rebuilt her wrestling craft in Japan after departing from WWE: Animated, Yumi comes to CCW with a very josh-inspired offensive repertoire, heavily incorporating strong strikes and a unique array of throws and submissions.
Finishing moves
Edit
Boma Ye (Knee Strike to the face or back of the head of a seated or kneeling opponent) – adopted from Shinsuke Nakamura
Overwing (Wrist Lock with Neckscissors) – adopted from Ayako Hamada
Signature moves
Edit
Bicycle Kick
Dropkick
Headbutt
Ishiyama Driver (Inverted Sit-Out Scoop Slam Piledriver)
Jumping Complete Shot – adopted from her love interest, Ulrich Stern
Landslide (Samoan Driver, sometimes from the second rope) – adopted from Shinsuke Nakamura
Moonsault
Running Arched Big Boot to a cornered opponent
Soccer Kick
Somersault Senton, from the ring apron
Multiple Suplex variations

Fisherman
Spider
T-Bone
Tiger
Vertical
Nicknames
Edit
Entrance theme
Edit
"Stars in the Night" by CFO$ (CCW)
Championships and Accomplishments
Edit
FanFiction Wrestling AwardsEdit
Ad blocker interference detected!
Wikia is a free-to-use site that makes money from advertising. We have a modified experience for viewers using ad blockers

Wikia is not accessible if you've made further modifications. Remove the custom ad blocker rule(s) and the page will load as expected.